32 Easy to use website design tips for this year
Website design trend is constantly changing since the revolution of the website. The design we use in the past doesn't work if we use it now.
Changing is their nature, be it food, fashion, technology or web design. And what most important is how our valuable customer accepts it. People love trendy things. So I would say go with the flow.
We know the designer put their heart and soul to make a website successful. But out of 100 websites only quite a few of them get success.
Why that? The reason is they are lagging behind some tips and tricks.
In this blog, I will give you 32 tips of website design that work this year. If you can follow all of the tips no one will dare to stop you from getting success.
So, without further any due, let's get started.
Advance Web Design tips work 2019's for all industry
1. Change playful wordmark, implement serious logo:
If your business logo is not serious enough, it's time to take it at a serious level.
Nowadays, most companies redesign their logo and give them a serious look and feel.
Want to make your website design one step further, start with redesigning your logo. Redesigning a logo means a fresh start of your business. A strong logo surely has a big impact on your business.
The logo that you created in 1974 is probably not going to work in 2019.
Some of the big company logos that changes over time are-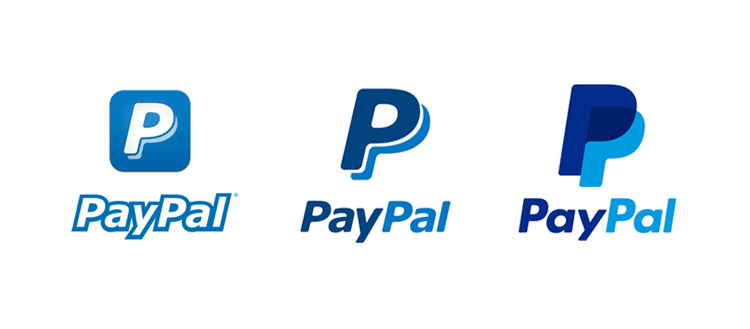 Image source: http://neladunato.com/blog/dont-teach-logo-design-to-business-owners/
First one is the PayPal's initial logo was designed in 1999. Then in 2007, the company redesigned its logo. And again in 2014, they redesigned it for the second time. They thought earlier one doesn't really go well with their technological advancement in the business. They make it more modernized and condensed.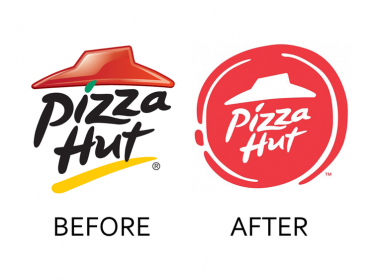 Image source: https://www.businessinsider.com/best-corporate-logo-changes-2014-12
Right one is the new logo. The round circle represents a splash of tomato sauce in pizza dough which goes well with their overall concept.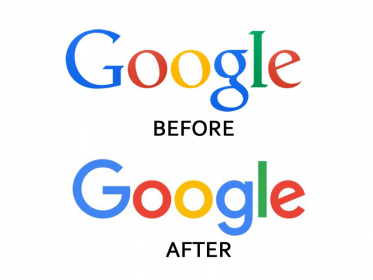 Image source: http://osmanassem.com/tag/logo/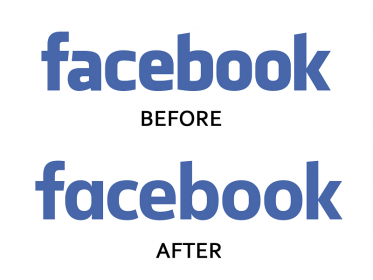 Image source: http://osmanassem.com/tag/logo/
If you see carefully, one thing is common between Google and Facebook logo. They both go with a flat, vector and simple logo. And the fonts become more standard.
2. Visual Hierarchy is Important:
Visual hierarchy means influences the order in which the human eye perceives what it sees. This order is created by the visual contrast between forms in a field of perception.
Web designers use visual hierarchy to drag the visitors' attention to important elements. Now it's up to you, which element in your website you want to focus more.
Color
Contrast
White space
Position
All these will ensure the low prominence and high prominence of visual hierarchy.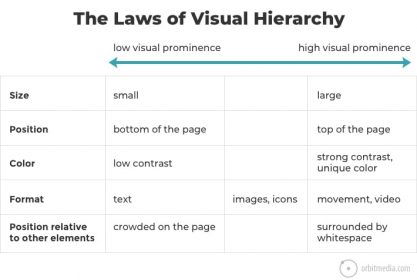 Image source: https://www.orbitmedia.com/blog/web-design-tips/
When you know the law of visual hierarchy, you can easily control the visual interaction of your visitors' from the top position of your website to bottom.
3. The keyword-focused, narrative headline on top of the homepage:
Every website serves a purpose. What is that?
Answering all the questions of the visitors. The moment they visit there, they first saw the headline on top of the homepage. If the headline is not relevant, it failed to give the answer they are searching for. And, If your website doesn't serve that purpose, then it becomes meaningless.
So, the headline should be meaningful, descriptive and keyword based. We all know headline should be the top of the page.
Don't put anything hazy and meaningless on top. It's better to be precise than clever.
You should explain in a short way what your company is about above the fold. To know more they must scroll and go below the fold.
Now a question can arise, what is Fold?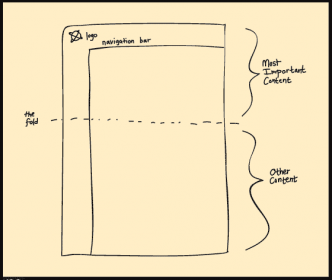 Image source: https://my.wealthyaffiliate.com/mkearns/blog/above-the-fold
An invisible line wherein the top the most important info must put in. So when the visitors read the above they will surely scroll down to read more.
That's why it's important what you put above and below the fold. In one study shows that visitors spend 80% of their time at above the fold.
4. Don't clutter the top by putting too much CTA:
Feeling generous, and put all of your call to action at the top. Please don't do that. It will become more distracting and disturbing for your visitors'.
Rather put it below the fold. When the visitor's like your content and services, only then they will take action.
So, place your call to action in such a place where conversion interest will be high. Like this –

Image source: https://trello.com/en
Here, Trello makes their call to action button stand out by color it green against their all blue background. And also they keep it simple. There's nothing to distract the visitors'. They also put clear instruction on what to do next, that is – Sign up it's free.
5. In one tall page clear all the doubts of your visitors:
It's important that your visitor's get the answer to their important questions on a single page. Rather than roaming around on multiple pages.
It will annoy them if they have to constantly move on to multiple pages just to find out an answer. And eventually, they will lose interest.
And, you don't want that, Do you?
I will suggest, please do your survey on your audience, what type of problems they mainly faced and their most searched question. And then answer those questions on a priority basis and put those answer on a tall page.
Because more pixel means more space to answer a question and that equates to more conversion.
That way, your visitor can easily find out the answer by moving down the scroll bar. Simply stop when they will find the answer.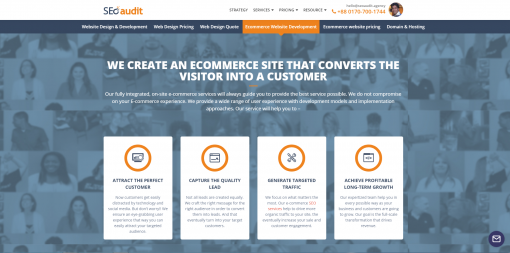 You can see this "SEO Audit Agency" website gives all the possible answer that can arise by the visitors'. You will get plenty of solution related to e-commerce service from this particular website. And that is the sign of a good website which listens to their audience.
6. Stop cluttering your design:
Minimal, modern design has now become a thing. People presently more into minimal design website.
If you put so much information, graphics, and the image on one page, it won't look good. Rather it will confuse your visitors. They will face difficulties to understand the right message of your website.
Nowadays visitors don't like clutter. They like white space. They like low visual complexity. Design with multiple columns including left side navigation, content area, right rail, create visual complexity. You don't want that.
So cut the clutter. Focus on one or two elements on each scroll depth.
7. Only follow standard layouts:
Stick to the standard layout. Want to do something extraordinary and end up looking like crap, doesn't serve the purpose.
It's imperative to be different from the crowd. But changing the layout, it's not an ideal idea.
Wanted to be different from competitors, so just show it in your words. Don't change the typical layout what it used to be. Because the website that follows layout is more likely to be loved.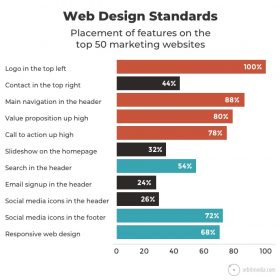 Image source: https://www.orbitmedia.com/blog/web-design-tips/
What makes a website layout standard is the following things:
Logo in the top left
Contact in the top right
Main navigation in the header
Value proposition up high
Call to action up high
Slideshow on the homepage
Social Icons at the bottom
Mobile responsive design
Search in the header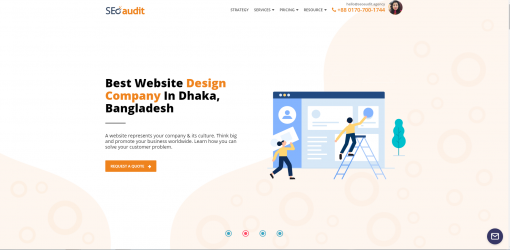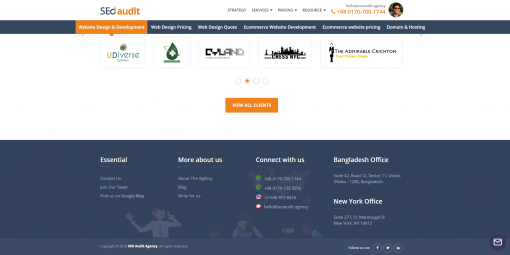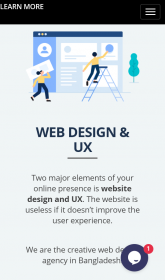 From the above image you can see, SEO Audit Agency maintains the standard web design layout. Their logo is in the top left, contact in the top right, search in the header and social media icon in the bottom. It has also a mobile responsive design.
8. Add more than enough white space:
In our exam paper, sometimes we don't save any space in our writing. As a result, it looks so disorderly which is not a pretty side.
But, when we spare some space in each line, add margins, it looks clean and refined. Also, it grabs the attention towards our writing.
Similarly, when we add extra white space on our website design, it grabs the attention towards our content more effectively.
And now noticeable white space becomes aesthetic. It gives rest to the visitor's eyes. White space to the place that doesn't necessarily need it, gain the liberty to get noticed by the visitors.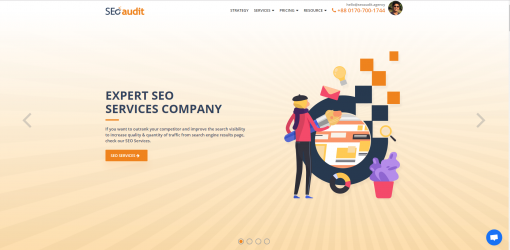 Like this SEO Audit Agency website. Giving enough white space the place where it doesn't need it, grab our attention to the center content. Also, it looks more clean and professional.
9. "False bottoms" are misleading:
You can't control how frequently your visitors are visiting any particular page of your website. What you can control is the false bottom.
What visitor see depends on some external factors –
Their monitor size.
Their screen Resolution.
The size of the window they use.
Now, typically in web page footer always in the darker background color. It becomes very common in most of the website. As a result, the visitor now assumes that a switch to the darker background means the bottom of the page.
But if your website has a page block which background is black that will mislead your audience. They will think it is the bottom.
Colour plays an important role in web design. That's why choose color wisely. You can choose white or light grey for your page block. And darker shade for the footer. Only then it won't yield any false alarm on your visitor.
10. Don't use rotating sliders:
In order to improve the user experience on your website, you need to avoid putting sliders or carousels. Although they've been popular for years.
But recent studies show that only 1% of people actually click on the sliders. And sometimes sliders confuse them because multiple messages are shown on each slide. Furthermore, they don't even intrigue to know such messages.
Also rotating sliders slow down your site, which is not smart.
Now a question can arise what you put instead of a slider.
People tend to act as if there's no other way to show their information or images but by sliders. This simply isn't true.
You can pile the slide by placing them vertically. So the visitors can easily access them just by scrolling down.
You can focus on the main image or message of your business in front of the slide. And give it a good call to action. That way you will give people a far better feel of your business, and you as a person. Also that way, they can easily take action.
11. Don't use tabs and accordions:
For maintaining success in your website, you need to avoid tabs and accordions.
Most of the visitors tend to avoid hiding things. They don't spend much time on revealing hiding information.
Make all the information upfront to your visitors. You don't need to hide it by applying tabs or accordions.
And always remember, scrolling is faster and easier than clicking.
12. Use real people pictures:
Ever notice the fact, we are more captivated towards real human picture than the graphics or animated picture.
Using human picture on the website means it becomes more trustworthy. Visitors will feel homely ambiance in your website. And who doesn't like that experience, right?
Also, people face not only just draw attention but also it will help to increase the conversion.
So make sure your website doesn't look like a deserted island with no soul in it. The website which is looking more personal gets more attention.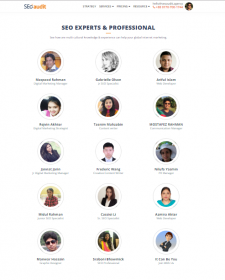 At the "SEO Audit Agency" website they put their team member picture in their about us section. That way their website looks way more personal and inviting.
13. More enhanced image treatments:
Images are always presented with unique design opportunities for your website. You can do a hell lot of things in order to grab the attention. And enhancing the image is the one way to change the look.
Several things you can do for enhancement, like –
Putting images in a circle
Making them black & White
Making them monochromatic
Adding a pattern on top to make a brand new image
Adding a drop shadow behind the image
Changing up the way an image look is a new trend in this year that you can implement in your website design project.
14. Don't use stock photos of people:
Like I said earlier using people picture really helps to grab more attention. But that doesn't mean you are going to use stock photos from google, bing or other search engines.
If you don't use the real picture of your company or team, then how come you become trustworthy to your customers.
Visiter can easily identify which one is real and which one is not.
So just be yourself, Use the real people pictures of your team and work. That don't necessarily have to be polished. Authenticity is more important than polish. If your image is not authentic enough, no matter how much you enhanced that it won't work.
15. Use more video content:
Feature video now becomes a thing. If you put a feature video on your web page, that really amplifies your website value. Cause audience now loves to watch videos rather than reading.
Also, Google now priorities those websites which have more video content than general websites. It is an easy way to gain more traffic and boost your website.
Video helps to make your websites easily searchable and make your content more efficient. So don't underestimate the power of the video content.
The more you put video content on your website, the higher will be the value of your website. Because the more the merrier.
16. Faces work as visual cues:
Using a human face is a trick to grab attention towards the important subject. Now suppose your company sells baby products. You can use a baby picture to give visual cues to your audience. It is a special opportunity to guide the audience.
As a visual cue, faces work in three ways –
If the baby directly look at the camera, the audience will look at the baby.
If the baby looks at the baby product, the audience will look at the product.
If the baby pointing out the call to action button, the audience will definitely take action.
17. Arrow work as visual Cues:
Similarly, an arrow can also do the trick. Use an arrow to pointing out the important element to your audience. The audience will definitely follow the arrow. This guideline will also make things easier for the audience. As they know what will be the next step with the help of the arrow.
18. To grab the attention of the visitors to 'call to action' button use color:
A recent study shows the power of color and luminance contrast help to grab attention.
But if you think only a colorful button is enough then you are wrong. In order to make the CTA button more prominent, you need to –
Contrast the button color with the background.
Contrast the button color and the button text.
Contrast the button with nearby elements on the page.
Leave plenty of white space around the button.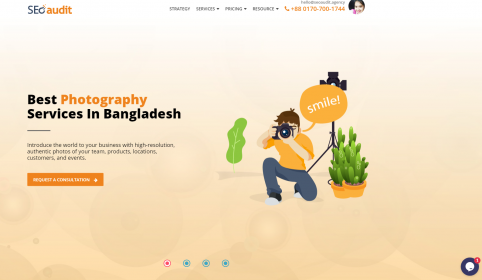 In "SEO Audit Agency" website, they use contrasting color against the background in their CTA button and text. The color scheme they choose for background, text, and button are perfectly blended with each other.
19. Use descriptive navigation on the header:
Descriptive navigation helps to grab more audience attention rather than the generic one. Cause generic navigation is used by millions of websites.
But with descriptive navigation, your audience will easily find out what to look at. So be a smart one.
Using best practices of navigation will allow you to –
Be more relevant:
Because navigation shows on every page. And the description one will allow you to show Google that your website is truly about the topic. As a result, your ranking and traffic will be increased.
Become a helpful guide to your audience:
Descriptive navigation communicates instantly with the audience. The moment they visit your website, they know what the service or product you are providing by looking at the navigation.
20. Always put the home link button on the top left:
Always remember to put the home link button on the top left of the web page. It is commonplace for the home button. When visitors visit your website, they always search the home button on left. Because most websites do that and now it becomes a habit for the visitor. If they don't find the home button on left, they will find the website useless.
And in case of menu items, don't think much of it. Because visitors don't care about the order of the menu items.
At the "SEO Audit Agency" website their home button is in the top left. And then they horizontally put other buttons.
21. Avoid linking from service pages to blog posts
Adding blog post to your web pages helps to lift up your website authenticity. It has some amazing benefits:
Blog post keep your website content fresh
It facilitates your SEO Practices
It helps drive the traffic to your website
Helps to increase conversion
It helps establish authority
But you need to do this with care.
Why?
Blog post tends to have more distraction and exit opportunity.
Those links will boot your audience from your service pages to blog post. And the blog post generally less focused on driving conversion than web pages. As a result, you may lose some of your valuable leads.
What you can do is instead of linking them directly, add them separately below your web page. As a result, it won't create any distraction and also work as driving traffic.
22. Use only relevant links for other websites:
Link generally helps the visitor to reach their search goal. But you have to be careful when you put external links on your web pages.
You don't want your visitors to take leave from your web site to other sites.
So don't put just any link that will negatively affect your ranking and conversion.
Before inserting any link ask yourself –
Does this link will help you to gain more leads?
Do you want your visitors to click this link?
Does this link help you to achieve your goals?
23. Social media icons in the website header – is a big NO:
It's not ideal to put social media icons on the header. Generally, the visitor first looks at the header when they first visit the website. Those colorful icons can easily create a distraction. If the visitors click those icons, then it will be difficult to come back on the original site. Cause those social media site can easily divert anyone from the original topic.
So for social media network link, place those icons on the footer. Visitors will find them if they're looking for your social media site. Also, that way you don't advise them to leave.
24. Meaningful subheads are important:
Writing meaningful subheads will allow you to –
Improve your site usability.
Good for the visually impaired audience.
Improve the approachability for your visitor.
Improve SEO.
So be descriptive and meaningful regarding subheads.
But there is another thing you should keep in mind when placing subheads.
Would this page be just as good without subheads?
Would my visitors still know what they're looking at?
If the answer is 'YES', then subheads will be completely wasted for your site, you can remove it.
25. Long paragraphs are boring:
Visitors don't have that time and patience to read everything your site has. Additionally, a long paragraph will just bore them. It also decreased the readability of your site.
So, please don't write content longer than 3-4 lines. Make the line short and simple not more than 12 words.
26. Focus on Data Visualization:
Data visualization becomes a trend among website designer. Many websites now implement data visualization into their design. Data visualization helps people make decisions. It also –
Support your primary content.
A powerful tool to tell stories to readers.
The opportunity to engage readers and speak to them on a deep emotional level.
While visualizing data you have to be clear on some matters, which is –
Know what you want to tell.
Know your audience.
Always communicate the truth.
Show only the right amount of Data.
27. Simplicity is the key. Use simple words:
As I mentioned earlier the more simple your sentence would be, the higher the readability. Fancy word using idioms and hard words will decrease the readability. Also, you will only make it difficult for the audience to read it.
You might think that big and fancy word will make you more intelligent. But that only makes your visitor feel dumb. As a result, they won't be interested to read your content anymore.
But that doesn't mean you have to low your content quality. When common and simple word will do the work, why using the hard word. Even a Ph.D. holder prefer to read the content at an 8th-grade level.
28. Put important info in the Beginning and in the End:
Maintaining a serial in your website content will help to increase the usability. Readers generally more attentive at the beginning and end but on the middle, they don't pay that much attention.
According to Serial-position effect, it is the tendency of a person to recall the first and last items in a series best, and the middle items worst.
So important info should be put on the beginning and end. That way it will stay longer in the visitor mind.
29. Prioritize the visitors' question first:
Every website serves a common purpose – solved the problem of the audience. If your website failed to do that, then there would be no meaning of developing it.
So make sure your website answer those following question beforehand,
What is the purpose of your website?
What type of service you are providing?
What type of problem you are solving?
What makes you best?
What makes you different from others?
30. Add evidence in every service page:
In order to make your website more legitimate, trustworthy, you have to put proof of your work on your website. Otherwise, why your audience would believe you and choose you?
When we buy something from the market or online, we always looking for proof. That tells us whether this product is original, not fake. Same goes to our audience.
Here some of the social proof you can add to your site –
Approval from relevant influencers
Reviews from clients
Logos of media where your company has been mentioned
Trust seal, award, recognition, certificate etc.
Newsletter
Proof of your worksheet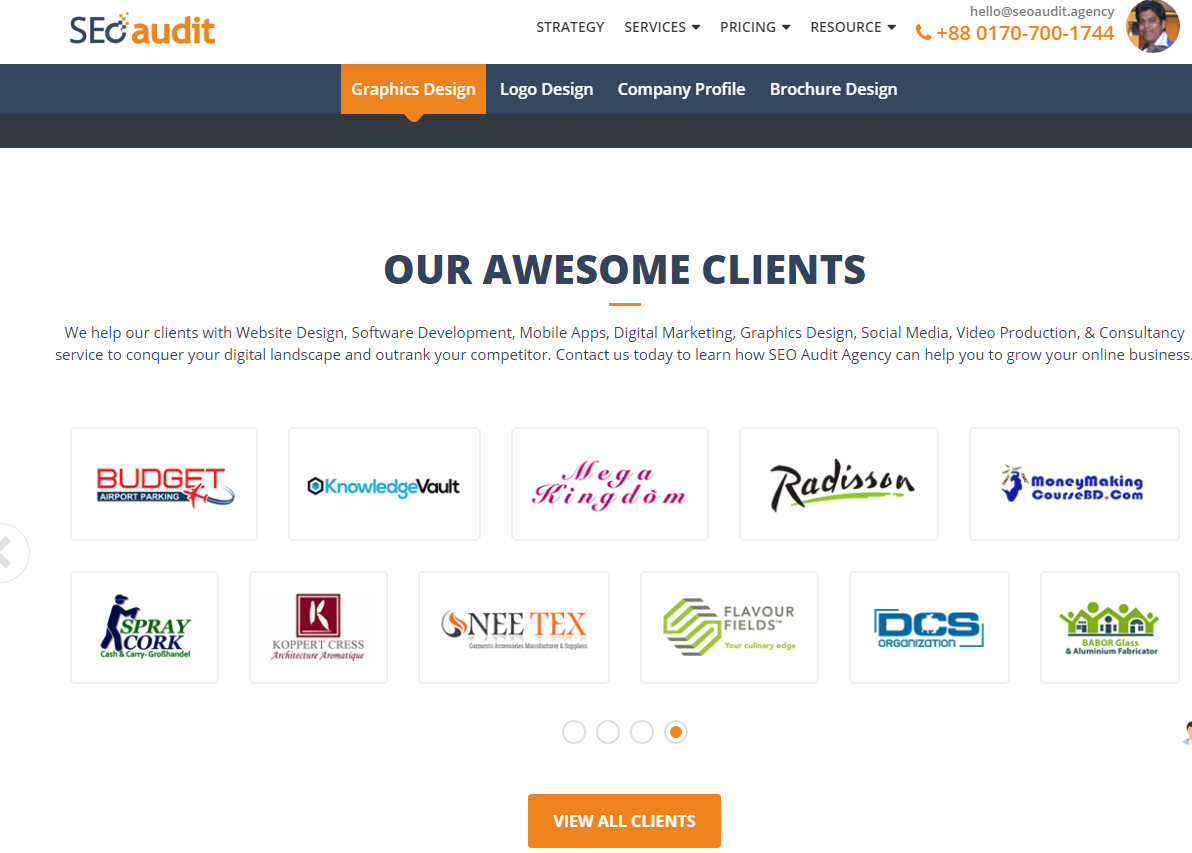 Like this, you mention your clients in your every service page.
But don't make a separate page just to show the evidence and social proof. People don't tend to visit that page just to look at your testimonials. Instead, add testimonials with every service page.
31. Highlight scarcity:
People generally hate to lose. They tend to overvalue losses. Not having it haunt them more than the pleasures they will gain when they have it. So you can use 'loss aversion' in your benefits to trigger more audience.
Highlight the costs of not using your products and services
Bring attention on immediate gains.
Create an urgency on limited offers.
If the product is limited, mention that.
Politely awake your visitors by reminding them what they are going to miss if they don't take action now.
32. Email sign up forms should be optimized:
Optimize a sign-up form at the bottom will allow you to increase the conversion rate. But you need to make sure the form is more prominent and visible to the audience. There you should tell a message to your audience what they'll get if they sign in.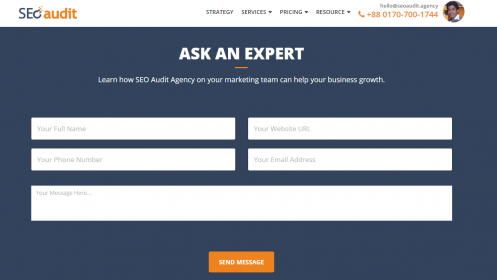 Like this the "SEO Audit Agency" website. They make their signup form more noticeable to the audience. They use bright orange color at the call to action button against the darker background shade.
Closure:
We tend to give more importance to beautify the websites rather than focusing on the most important thing. We need to makes it more user-friendly. If your website is not functional, then the design itself won't serve any purpose.
To stand out from the crowd and really makes a difference you need to think about the user- friendly design.
And these 32 tips will surely help you to achieve your goal.
Check Your Website's SEO Score
Enter the Domain or Page URL and Keyword to get an SEO report in less than a minute.
(URL Example: https://yourwebsite.com (or) https://yourwebsite.com/your-page-url/) (Keyword example type: seo company (don't type) seo company, seo agency