Advanced and Professional Software Development Solutions
Our Design, development, testing, deployment and content skills pave you the way to meet the goal in one place.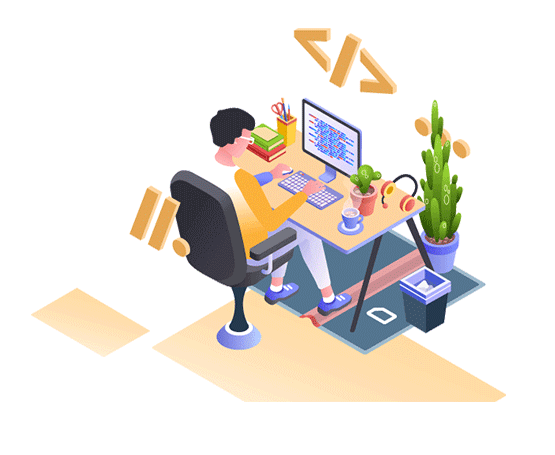 Web Application Development
Web application development is formed with the combination of front-end and back-end development. We keep the front-end simple and visually appealing keeping in mind the latest trends. We use all the latest techniques to make the web application interactive and stylish. HTML, CSS, JavaScript, Ajax, jQuery, Bootstrap, AngularJS, ReactJS etc are the languages and frameworks we use to make your web application more powerful.

We develop robust and durable backends in accordance with our customer's requirements. We also offer deployment and customizable content. For back-end development the languages and frameworks we use are PHP, Laravel, WordPress and so on. Whether you already have a database and simply need integration, or cannot decide on your app's initial database, our specialists are ready to help.
Software Development Consultation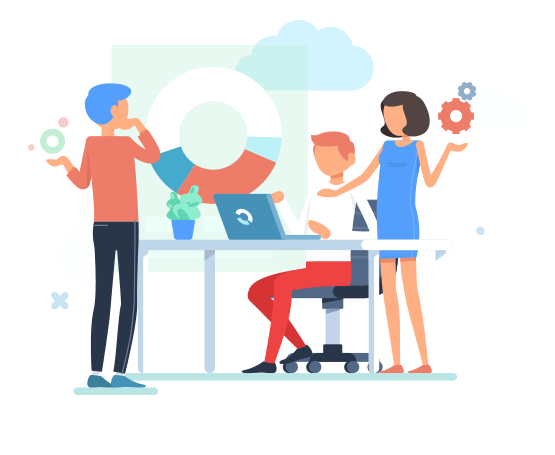 Cloud Based Application Development
Cloud based application is a combination of cloud computing, networking, storage, management solutions and business applications. Our cloud based application tasks encompass email, file storage and sharing, word processing, inventory management, order entry, CRM, data collection. We provide cloud applications that can be quickly updated, tested and deployed. We keep our cloud applications small by using API based back-end services. We have world-class security experts and we implement infrastructure security measures. Our cloud based applications are to operate and maintain.
Software Development Management
Software Development Process
We empower you with our expert team that help you to innovate and build great software products.
Planning

At first, we need to do the planning on the whole project. For proper planning, we need to calculate the strengths and weaknesses of the project. Our expert development team along with our clients will plan the whole project for a flawless and progressive result.

Analysis

This step is about analyzing the performance of the software at various stages and making notes on additional requirements. Analysis is very important to proceed further to the next step.

Design

Once the analysis is complete, the step of designing takes over, which is basically building the architecture of the project. This step helps remove possible flaws by setting a standard and attempting to stick to it.

Development & Implementation

The actual task of developing the software starts here with data recording going on in the background. Once the software is developed, the stage of implementation comes in where the product goes to see if it's functioning properly.

Testing

After developing and implementing the software we need to test it rigorously since at the initial stage the softwares contain lots of bugs. The testing stage assesses the software for errors and documents bugs if there are any.

Maintenance

Finally. Once the software passes through all the stages without any issues, it is to undergo a maintenance process wherein it will be maintained and upgraded from time to time to adapt to changes.
What Makes Us
Best Software Development Company in Bangladesh?
SEO Audit Agency is one of the best software design and development company in Bangladesh. We have the best IT specialists and experts with high professional experience.

We are specialized in deploying and maintaining softwares that are delivering innovation and enabling the high performance to our clients. Our expert development team develop and implement high performance and latest technology projects.

We create affordable software projects that render to the digital infrastructure of business today.
Strategic Solution
We hear out our client's business strategy, monitor its effectiveness and suggest modified policy. So that you can institute the best value of your product/service before implementation.
Data Manipulation
Our architecture with high-end capabilities is set to facilitate you by managing data with innovation and dexterity, being the best Software Company in Bangladesh.
Maintenance & Support
We care for our respected client even after delivering ordered products. If you purchase our solution, you'll get lifetime consultancy help in managing your automated system.
High Performance
We've set a benchmark for each our product. Our client can monitor their business progress and integrated software as well.
Application Optimization
As an affordable software development company, we thrive to facilitate our respected client with a modern and optimized solution.
Advance Technology
We know how to adapt to growing trends by deploying the most advanced technologies. We are bound to provide you the best experiences of software development in Bangladesh.
Request a Free 30 Minutes Software Development Consulting Services
Looking for a free consultation or want to learn more about our services? Please give us a call or email us by utilizing the below information.

For General Inquiry
hello@seoaudit.agency
For Sales
sales@seoaudit.agency
For Support
support@seoaudit.agency
For Facebook Marketing
charu@seoaudit.agency

For General Inquiry
+88-0170-700-1744
For Facebook Marketing
+88-0131-258-3388
For Branding and Marketing
+88-0131-257-3388
For Business Development
+88-0179-733-3556
Our Awesome Clients
Our Clients are our top priority. We treat them with the utmost care and they inspire us to do better with every step. We help our clients with various services such as Website Design, Software Development, Mobile Apps, Digital Marketing, Graphics Design, Social Media, Video Production, & Consultancy services to conquer their digital landscape and outrank their competitors. Contact us today to learn how SEO Audit Agency can help you to grow your online business and take it to the next level.