SEO Audit Agency onboarded by Banglalink as SEO and ASO partner
Dhaka, 20 June, 2019: SEO Audit Agency was officially onboarded as the SEO and ASO partner of Banglalink at a formal onboarding event/ceremony participated by Qazi Urfi Ahmad, Brands & Communications Director, Banglalink and Maqsood Rahman, Founder & CEO, SEO Audit Agency. The main objective of this partnership is to help the customers by equipping them with the right information at the right place in the Google search engine result page, and also to improve their experience of using Banglalink's website and mobile application. After having several meetings with top SEO service providing companies in the country, Banglalink found SEO Audit Agency the most eligible one for its SEO project.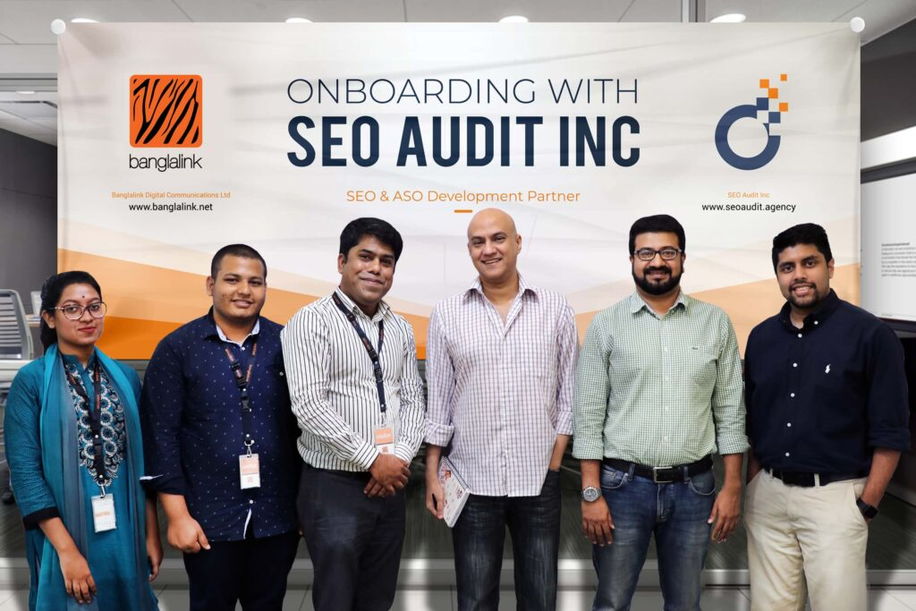 From the left we have Tasnim Mahzabin as Creative Content Creator of SEO Audit Inc, Ariful Islam as Senior Web Developer of SEO Audit Inc, Maqsood Rahman – Founder and CEO of SEO Audit Inc, Qazi Urfi Ahmad – Brands & Communications Director of Banglalink, Mukit Ahmed – Head of eMarketing at Banglalink Digital Communications, Omair Haider Chowdhury – Senior Executive, Digital Marketing & Engagement at Banglalink.
Qazi Urfi Ahmad, Brands & Communications Director of Banglalink also quoted that, "We are really glad to have partnered with SEO Audit Inc., which has a proven track record of providing effective SEO solutions to many renowned organizations. Their highly efficient team, consisting of experienced SEO experts, is capable of ensuring the expected outcomes. We were looking for an SEO service provider who could understand our specific demands and provide the required solutions accordingly. Since the onboarding, they have been performing very well and contributing to generating expected traffic to our website. We are hopeful that they will contribute significantly to the revamping of our website."
Maqsood Rahman, The Founder & CEO of SEO Audit Agency said: "First of all, we are really grateful to work with Banglalink Digital Communications Ltd. as their SEO and ASO partner. It is a great opportunity for us to showcase our SEO expertise in this particular project. Since I have been using Banglalink's services for a long time, I can easily identify the places of improvements from the SEO perspective, as well as from the perspective of a user.
After perceiving the clear picture of the whole project, we researched and scanned the telco marketplace to get the key insights. We ran a technical SEO audit on Banglalink website so that we could find out the gap in order to implement the "SEO best practices". We also thoroughly analyzed their backlinks profiles and existing website in order to remove the dead links and fix the broken links of the site.
I strongly believe that Banglalink can surely win over their competitors and ensure the desired amount of visibility on all their digital platforms."
About SEO Audit Agency:
SEO Audit Inc. is the digital marketing agency in Bangladesh offering numerous digital solutions in order to improve brand visibility and customer engagement in all the digital platforms. They are best known for their SEO, Website design and development, Graphics design, Social media management, Facebook Advertising, Creative content management service. To learn more about SEO Audit Agency and how they can help your online business goal you can set up 30 minutes of free consulting services with one of the specialists.
Check Your Website's SEO Score
Enter the Domain or Page URL and Keyword to get an SEO report in less than a minute.
(URL Example: https://yourwebsite.com (or) https://yourwebsite.com/your-page-url/) (Keyword example type: seo company (don't type) seo company, seo agency