Looking to expand your business reach? Welcome to the PR world.
It's the easiest approach to expose your brand to interested people. Regardless of the size of your business, PR services make smooth communication with your target audience.
There are so many important aspects associated with PR service in Bangladesh. We will talk about everything in this article.
So let's begin.
What is a PR Service?
In a general sense, PR services help to produce and manage engaging brand messages through different media with the intention of influencing the public online.
According to PRSA (Public Relations Society of America, "PR is such a strategic communication model that helps in building beneficial relationships among organizations and the public."
The goal is to create and improve brand awareness along with company reputation. By combining the PR approach with a marketing agency, a company can easily boost its online results.
PR service in Bangladesh exclusively deals with client relations. It mainly follows a B2B and B2C agenda.
Most Marketers now take advantage of making connections with the press, top PR sites, and other relevant third-party sites by promoting their brand story. By having a solid PR strategy you can easily build, shape, and fine-tune your brand voice.
Now that you know about PR service. Below sharing the different methods of PR strategy. Take a quick look at that as well.
Why is PR Service needed?
Millions of new businesses grew up online every month. But what good if no one knows about it. Distinguishing yourself from everybody around you, you need to take the right PR approach. Without PR marketing and advertising, no one will knock on your brand door.
A hand-selected PR approach can create buzz about your business.
In this digital marketing era, PR strategy is well suited to content marketing. A PR campaign is incomplete without blog outreach. Nowadays most marketing companies benefit from publishing blogs. It is a more accessible way to say hi to your business potential clients. The writing style which is less sale-y and more informative wins the race.
Below are sharing the reasons no matter what the size why every business should practice public relation solutions.
Public Relation is most effective than Paid Advertising
People give their confidence on those sites which ensures more trusted value.
One study shows that PR has 90% more trust value than advertising.
Word of mouth, influential marketing, recommendation, and reviews has more trust factor than every PPC campaign. PR holds more weight than every paid Ad.
It complements your Marketing activities
Well, every business is competing now for gaining attention. And as the above point describes, PR earns more people's attention. By creating smart, informative, and compelling content you can easily convey your brand's higher purpose. It seamlessly mixes with your other marketing approaches and supports every initiative that your business takes.
PR comes to stay for a long-term game
For every newsworthy PR activity, you can easily sustain the top position on search engines for a long time. A PR activity has longer shelf life than any other promotional activity. Thus by sharing positive relevant stories across owned, earned, and paid media you are achieving a higher ranking on SERPs.
PR is Free
Well, generally some of the approaches are more free than any paid marketing. Some sites let you publish guest posts free of cost. As a result, you can now easily gain visibility without investing a single penny. Also with PR services you can now build strong relationships with influential journalists. As a result word of mouth lets your business gain popularity more than any advertising. By getting your business mentioned on a familiar news site, you can easily make more people talk about your business.
Advantages of PR Service in Bangladesh
The duties of PR and marketing are different. PR helps in boosting the reputation of your business. While marketing helps in driving sales. But when you align both goals together you can easily achieve the following benefits for your business.
1. Increase your brand's credibility
Public Relation gives more credibility and visibility than no other solution does. As it considers the most authentic and informative way to reach out to the consumer market with valuable business content. Studies show that PR service has more perceived power than any kind of promotional advertising.
2. Gain Attraction of your target market
PR shows an easier approach to retain and attract a target market. A well-written article based on your products and services published on any authentic PR site has a more attractive impact than any advertisement on the same site.
Furthermore, with multiple authoritative sites shared by your PR agency, you can easily share your business key message to your target audience. And become one step closer to achieving your business goals.
3. Increase the social value in the target market
Public relation has a unique touchpoint to put you at the forefront of your niche market. It adds value to your offered products and services which help you to stand apart from competitors. Further, it increases the visibility of your business, builds strong bonding with customers, gives a personal touch to your brand, adds value to your sales process, and so on.
Overall there is a win-win scenario when you take PR service as your marketing instrument.
For example: here Banglalink is sharing relevant graphics to educate the people keeping in mind the recent Covid situation. It helps to easily grab the audience's eyes and let Banglalink build its social value.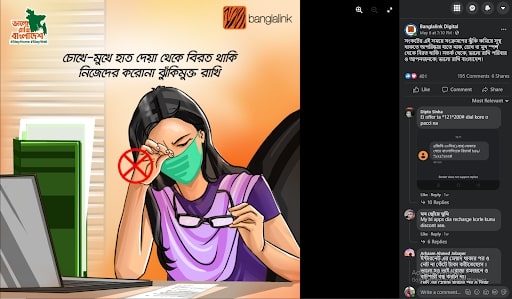 4. Foster lead generation Process
Media placement works as a long-term lead generation solution for your business. As it helps to expose your business to a larger segment of qualified leads. When it comes to generating leads, it comes with a combined process of short-term and long-term tactics. PR service lets you build a strong foundation for your future marketing activity. And foster organic traffic generation over a period of time.
5. Build the foundation for your brand image
Image building is today's cutthroat for most businesses. For that, you need a rock-solid PR plan to capture customer's attention.
With the combined approach of owned, earned, and paid media you can effectively build and nurture brand image.
It creates a more positive brand image in the mind of your targeted consumer. And provide an alleyway for engagement. Furthermore, it shapes all the aspects of your business by adding a greater brand image.
For example, themithaiwaladotcom uses social media platforms to build its reputation online. In this example, we can easily see how Mithaiwala engages their consumer with effective PR strategies.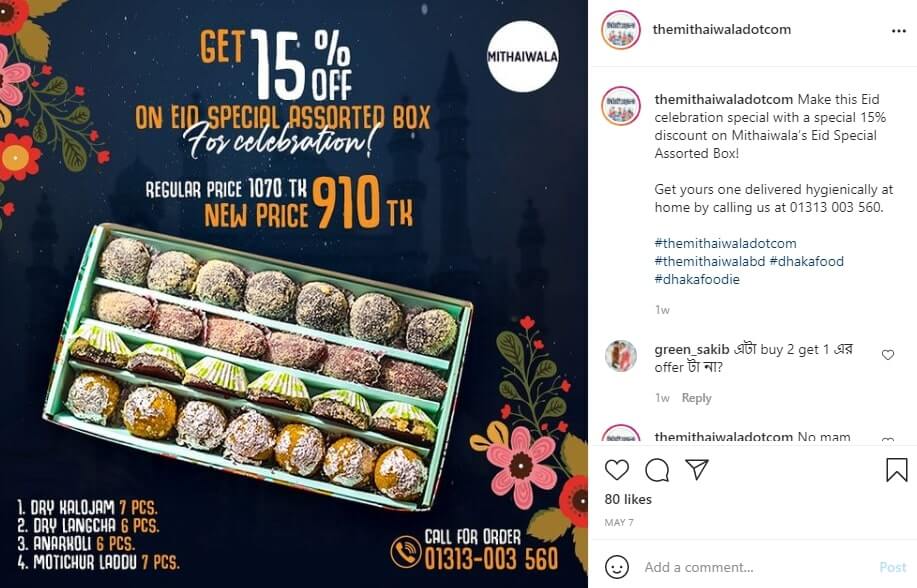 A modern take on PR services in Bangladesh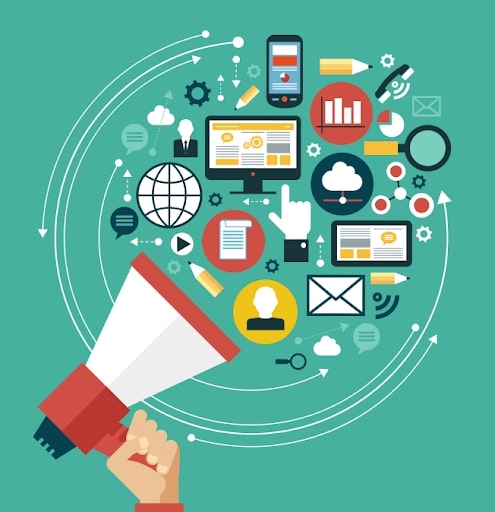 Growth Hackers are now developing their own method for doing better than traditional media. Approaches such as SEO, Content Marketing, and so on. New forms of marketing are taking place. Techniques are changing roles. Let's peek into the different PR methods that are approved by modern marketing techniques.
Press Release
One effective way to automatically familiarize your business among potential customers is through press releases. If you need to announce any new product or service or launch any new update, a press release is the one you have to write. By publishing that news on different authoritative sites helps you to attain more media coverage.
For example Here SEO Audit Software publishing press releases to share their software success across the world. It ends up gaining more audience likes and shares.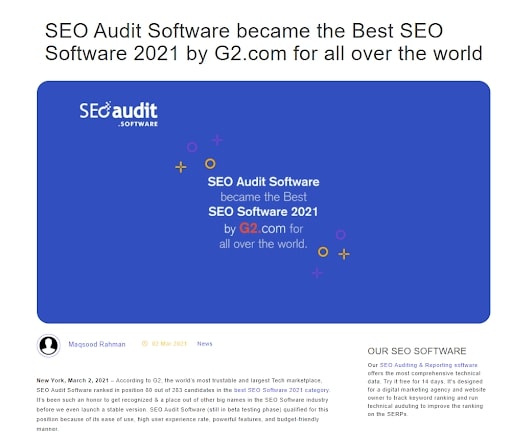 Guest Blogging
For real brand exposure, guest blogging is an excellent choice. In order to start this out you need to write the right content. Also need to find guest blogging opportunities. The written content needs to be focused on your niche along with the guest blogging sites. To begin with, Google can be an excellent place. You can search by placing the following keywords,
Guest post guideline
Submit a Guest Post.
Those searches lead you to those sites which accept guest posts.
Brochure
Brochure helps you to share the business's relevant message. With a brochure, your PR marketing will no longer be a time-consuming process. It helps to improve your brand consistency by establishing a powerful identity for your company.
Influencer Marketing
Influencer marketing is one type of social media marketing helping you to endorse your products by different influencer individuals. Those who have dedicated social followers and have expertise in your niche only consider suitable candidates for marketing. Influencer marketing works because of the trust that is built up with the social following. A positive recommendation from their end will be considered as social proof for your potential customers.
TV Channel Ads
TV Channel is still the strongest media choice for building brand awareness for your business. Setting up business Ads on different TV channels creates a new horizon for your promotion system.
We're still watching TV. Now by publishing your company AD you can bring a huge difference. With the huge number of streaming options, you can easily target different interest groups.
Newspaper Ads
This one considers the most trusted source to easily grab your target audience's eyes. Newspaper Ads is such a marketing solution that can fit your business's overall storyline. By defining your business's unique selling proposition into the AD copy, you can easily bring spark in the consumer buying habit.
Carefully plan each newspaper AD so that your business can always deliver a consistent message to your consumer. And in the end, grow their confidence in your business.
Popular Portal Ads
Build premium, carefully curated ads and publish those on the popular PR site to bring more recognition. To let your business breathe happily you don't want to miss out on such a driving opportunity. It leverages every popular portal as the strongest PR instrument and helps in amplifying your business's organic reach.
Video marketing
Sharing your business video across the top platforms helps to drive more valuable results in your business. There are different types of Video Ads to choose from, such as
Skippable Video Ads
Non-skippable Video Ads
Display Ads
By working on those types of video ADs your business will keep popping on the audience screen. As a result, you will have more hold on audience attention than it requires.
For example: In this introductory video of the Amar Dokan Mobile App shows how this app can be beneficial for micro-merchants to circulate their business. That ends up bringing more audience for your business and increasing the App download number.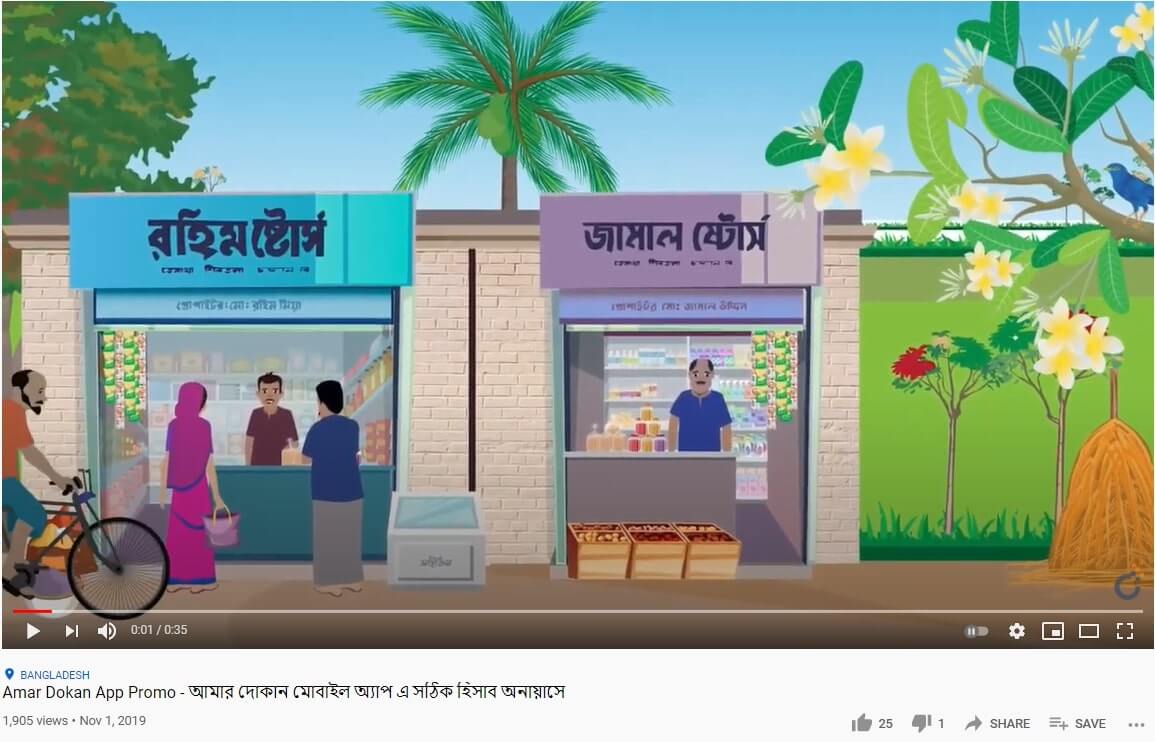 How the PR Service in Bangladesh Works?
A great business reputation can not be built overnight. It needs to be carefully planned and nurtured. With the help of a PR agency now you can easily align your business objective with a meaningful public relation program. As well as craft such business messages that enhance your business image. A PR service in Bangladesh works by following the below steps.
Perception Audit
To find and build concrete recommendations for every subsequent PR action, you need to align your business approach with a PR strategy. And for that, foundational understanding along with gaining perception of a company's constituencies is important. That's when the PR agency comes into service. They gave you a package full of guidance with actionable results. That helps you to intelligently pour well-intentioned PR programs into the business marketing approach.
Editorial Services
For all kinds of writing services including press releases, newsletters, guest blogging will be covered by the PR agency team. With the expert guidance of writers, you can now easily craft such messages which spark only the client's interest.
Brand Positioning
By doing research, monitoring, auditing, and reporting now you can easily uncover relevant information for your media placement to become a success. PR agencies help you to keep abreast of the changing market trends and provide comprehensive solutions in a consistent manner.
Media Relations
With a PR agency at your service, now you don't need to think about building relationships. As they already had strong bonding with different media. As a result, your business can easily gain access to essential ideas and sources to make the business writing a hit.
With the insight knowledge now you can easily reach the right people at the right time with the right message.
Reputation Management
Reputation management of your business is now an integral part of your public relation. It ensures your business doesn't suffer online for whatsoever reasons. With the help of a PR agency now you can refresh your reputation and make the long-awaited goal of your business happen.
Crisis Management
With the expert hand of a PR agency in Bangladesh, now you don't have to suffer when any crisis arrives. As they provide crisis management solutions to control every damage in a competent manner. And help you get to the top of every situation.
Digital Communication
For every marketing goal to become a success it's important to educate yourself with the digital best practices. A PR agency helps you create the right business voices to reach the right audience. Your business will now have strong bonding with authoritative PR sites.
So will you now consider PR service as your Marketing Approach?
A PR agency can be a great compliment to your marketing efforts. It helps in driving more traffic. And facilitate more business. So now that you have a brief knowledge about PR service in Bangladesh. Let's start reaching a larger audience without the high cost. Let's make more business with an effective PR solution.
Check Your Website's SEO Score
Enter the Domain or Page URL and Keyword to get an SEO report in less than a minute.
(URL Example: https://yourwebsite.com (or) https://yourwebsite.com/your-page-url/) (Keyword example type: seo company (don't type) seo company, seo agency