Mobile App SEO in Bangladesh
Looking to increase the number of downloads for your Mobile App? Thinking about doing SEO for your Mobile App. What about ASO?
Sound confusing. Well, don't.
ASO is the search engine optimization for App stores.
Google core updates prioritize mobile-friendliness more than ever before. As now mobile searcher number increases the higher rate. So ideal to prioritize such core updates to improve the mobile search experience.
Nowadays, not only your web presence but also your mobile app shows on the SERPs with a button for installation.
That's a great opportunity for mobile apps owners to increase the installation number apart from the app store.
There is a wide variety of mobile apps you will acknowledge on the search engines. To win the race of ranking and influence the higher position, one must follow some well-described steps or techniques.
In this article, we are going to share some awesome ASO tactics plus the current scenario of Mobile App ASO service in Bangladesh.
So are you ready to conquer the Play store/app store traffic?
ASO or SEO!! What to Choose?
For optimizing your application don't get confused by SEO or ASO. SEO is still considered the foundation you should lean on for doing ASO of your Mobile App.
More App promotion can be done by taking help from SEO. It directly helps your App by doing the followings:
Keyword Research
Target Keywords on the metadata and description, App title.
Linking in your Mobile App
To get index on Google
Approaching Link Building techniques
Generate more review and rating
SEO is the pillar that fuels your ASO for more responsive Ad campaigns. On research, it is shown that App store optimization strategy can bring 40% online discovery for your App while SEO has the ability to bring more online presence to your App.
This study proves that ASO is not all for grabbing more download numbers. Most of the app users are also mobile device users more than desktop users. SEO will optimize your app for mobile as well as for desktop.
Now if you're thinking of doing ASO without SEO, you are losing more than 50% of your audience.
In this competitive, sometimes confusing digital landscape, you need SEO to get your app introduced among the potential users.
SEO helps in-App store techniques by creating domain authority and increasing the bar of downloads.
Some fundamental factors of SEO in ASO are,
Meta Title
Meta Description
App URL
Rating & review
Screenshots
Keywords
Tag
App icon
After doing SEO, it doesn't mean you don't need ASO. SEO & ASO can be done side by side for better optimization. Saying that, let's learn what ASO is and how it can help you.
What is ASO?
ASO is the process of optimizing your business application in order to maximize visibility in the play store or App store.
It helps to improve the conversion rate and helps you to gain the maximum number of organic downloaders.
In short, ASO defines the app optimization efforts so that it can get more exposure and more people will download it.
Key Factors to remember before doing ASO in Bangladesh
There are some well-known factors that you just need to adhere to complete the optimization process of your Application.
There are basically two main factors for ASO
1. On-metadata Factor:
The factors which can be controlled. Such as,
App Title
Subtitle
Description
Keyword
App icon
URL
Category
Screenshots or App Graphics
Video Preview
2. Off-Metadata Factor:
The factors which can't be controlled. Such as,
Ratings
Review
Size of the App
Total number of downloads
App Size
Bugs & Errors
In short, On-metadata factors means those elements that can be modified and updated to improve the app download, visibility, and conversion rate.
By optimizing on-page metadata gives you a higher ranking on the SERPs and play store.
On the other hand, Off-metadata factors happen off-site which aren't in our control. But we can surely influence it by properly optimizing the on-page data.
So for properly done the optimization work, you must be well-aware of all the factors of App store optimization tactics.
Current scenario of Mobile App ASO or SEO service in Bangladesh
With a good ASO and SEO strategy, your app will be shown in those places which you can not do by applying any other strategy.
Earlier doing SEO and ranking on SERPs were easy, as Google wasn't that strict as it is now.
But now clicking the download number and bringing more active users is hard. And you can not do this by applying only a single strategy.
There are two main ways you can follow to bring a higher ranking for your application.
One is App Preview. App previews defined as when a user searches for relevant names or long-tail keywords on Google, they will see a preview of your app depending on how well you optimized it.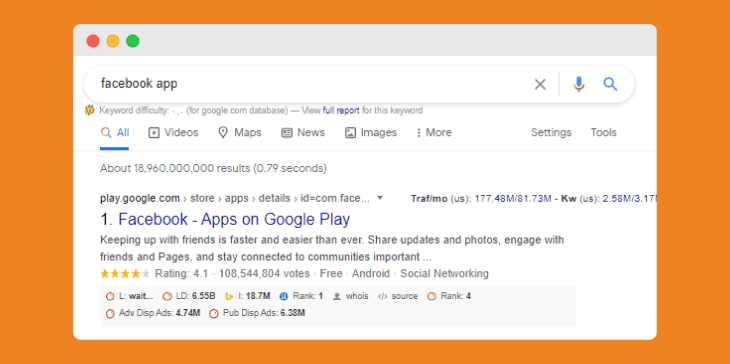 Such snippets can easily increase the downloads of your app.
Another one is App packs. It means the way your App shows up on Google.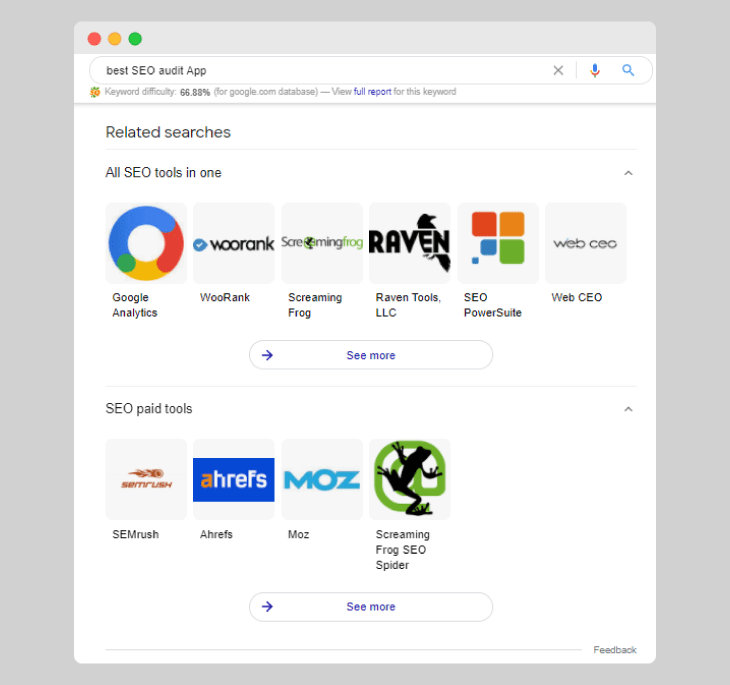 According to research, every one among ten mobile apps has App packs results. When users search for relevant topics that time 30 to 100 apps are suggested to them. Among those only 3 to 6 apps are visible on the recommended list. To see other apps, users have to click on the 'More Apps' button. To get the place of those 3 to 6 apps, you have to apply the proper SEO and ASO strategy
ASO can help you rank on App or play store whereas SEO helps you to rank on SERPs. Although for App optimization the killer thing is to increase the download number which can be done by ASO only.
So if you really ask which strategy to follow to begin with, we will suggest doing ASO first. When you're satisfied with the ASO result, you can move to SEO.
Benefits of doing App Store Optimization
To get the right users:
The most adorning benefit of ASO services is it helps you to find out the right audience. And those audiences will be 100% loyal to your business and will increase the active user level bar of your application. With that, you will get more in-app purchases as your audience will find the one they're looking for.
Increase your App visibility:
Without the app optimization service, it's quite difficult to rank on the top position on the Google search engine result page. And it causes zero possibility of being discovered by your target audience. To make your app stand out in the crowd, it's important to do the App store optimization.
More organic downloads:
Once your target audience is interested in your app, it will definitely bring more download possibilities. And with the most optimized video and screenshots of your app, it will easily cater to your audience's mind to download the app. For the constant flow of traffic, it's important to do the SEO of your Mobile App.
No need for any external Ads:
With ASO service there is no need for any external advertising session. You don't have to pay any extra cost for the optimization work. Now continuous growth you will get easily in a very cost-effective way.
Reach out to the users, no matter where they are:
With the mobile app localization strategy applied by ASO service, now reaching out to the target audience is becoming easier, faster, and brings more scalable results. With the right optimization strategy now you can optimize your application in a way that reaches out to your potential users no matter where they are living. Thanks to ASO, now the whole world audience is on your fingertip.
Driven most out of your Search Ads Campaigns:
Be it iOS or Android, the first step of your ASO should start with investing in a traffic-driven Ad campaign. Optimized the campaign with targeted keywords, exhilarating graphics or videos drive more conversion than any regular campaign.
Is there any tool available for doing Mobile App SEO?
Well, it is there. You'll find various app store optimization tools to track your campaign results and rankings in the App store and SERPs.
The most popular one is: Google Play Console.
To make your App a successful one, get your optimization started with the Google play console. This Google tool helps in
Troubleshooting while launching your Application.
Make your App store listed on the Play store
Has built-in testing tools to make app launching and growing process smother
Monitor your App progress and Performance
Help in generation per-launching reports.
There is another app called Radar, designed for making your optimization work less hectic and time-consuming.
To rank higher, your app needs a suitable amount of downloads, active users, reviews, and ratings. And that's when Mobile App SEO or ASO comes to the rescue. To know the performance of your app, certain metrics such as retention, engagement, and crushes are needed to be calculated. And that's turning in more potential user and App revenue.
Along with the ASO services, the App developers must need to work on the App updates. And by doing so, you can easily achieve a higher ranking and more app recognition.
To know more about our App Store Optimization service, visit our website: seoaudit.agency
ASO Service Providers in Bangladesh
It's now clear that SEO and ASO are vital for ranking your application. And hiring a good ASO service provider is also important as much as doing ASO or SEO for mobile apps.
Why?
Because if you don't have enough knowledge about ASO or SEO. you most probably didn't find the right tactics to follow for better optimization results. And that's why you should hire an agency for better ASO,
Quick tip: A study showed that, Hiring an SEO Agency will save you a lot more money than doing it alone with a beginner's hand.
And let us introduce to you our best ASO or SEO service in Bangladesh. When you search on Google by typing "Top ASO service provider in Bangladesh", you'll find us on top of the search result (check out the below screenshot)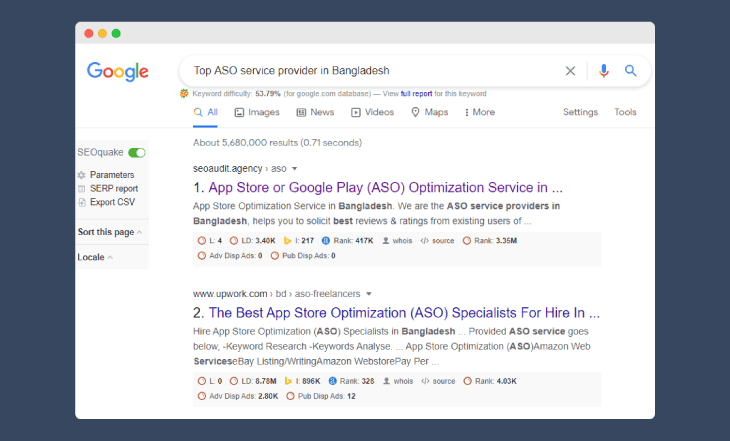 So by that, you must clearly understand why we are best in this field.

We ensure faster app download and best reviews and ratings for exciting as well as new active users.

We help your app to rank top on Play Store and App Store.

.
Our ASO services include,
App Store keyword targeting
Title and Description Optimization
App interface Screenshots creation
App Icon Creation
Aso Content creation
Ratings and Reviews Management
Run App installation Campaigns
Customer support
One of our successful App store Optimization project names is "Amar Dokan Mobile App" where we successfully increase the App downloads by 479.42% within less than 90 days.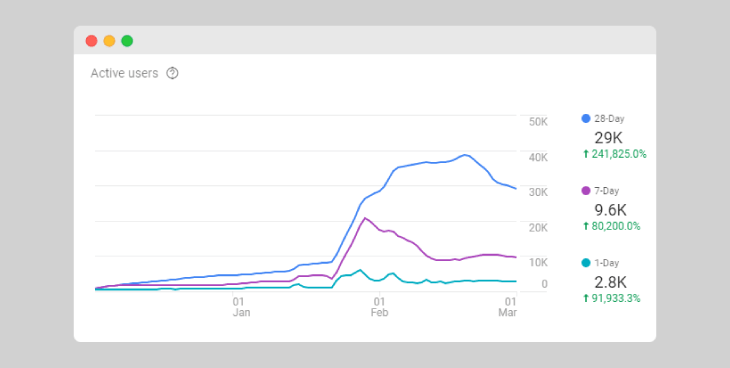 With that graph, you will see how fast the Active user number is increasing for our client's app. All because of our optimization strategy. To learn more about that case, check out ASO Case Study.
To learn about our ASO strategy, check out our service page: ASO service in Bangladesh.
Consult with the industry expert and bring home the best App store optimization strategy for your beloved application. Best of luck!!
Check Your Website's SEO Score
Enter the Domain or Page URL and Keyword to get an SEO report in less than a minute.
(URL Example: https://yourwebsite.com (or) https://yourwebsite.com/your-page-url/) (Keyword example type: seo company (don't type) seo company, seo agency