ASO Case Study – 479.42% App Downloads increased less than 90 Days
By reading the title, you might think that how this even possible. Rising such numbers of apps download in just 90 days seems impossible. Right?
But we did it. And let me tell you, it's not magic. You can do that too. You just need proper app store optimization knowledge, strategy & patience.
Approximately 3 million apps are currently present in the Google play store. Each month thousands of apps are released in the Google Play Store. Among them only quite a few numbers make a long-term impact.
It's difficult to win the race in the crowded field of competitors. When there are thousands of apps like yours already exist in the play store.
But we make this impossible task possible. We believe that nothing is impossible if we do it in the right way.
In this ASO Case study, we showcase the approaches we adopt to improve the app downloads.
So without further rambling, let's dive right in.
Background of the Story:
Our ASO project name is "Amar Dokan"
"Amar Dokan "mobile app is developed by Dnet (not-for-profit social enterprise) under the SHIFT-MDDRM project. This app is solely dedicated to micro-merchants. The main aim of this app is to help the micro-merchants by circulating their business's most effective & efficient manner.
To keep track of the daily expenses of the store
To keep a record of the amount of money needed to spend on the goods
Daily due-sales calculations
To know the daily business statistics.
Save the daily business accounts
All of this & many more can be done by using this app. Now shopkeepers, most importantly micro-merchants can easily manage all business accounts. It's like a loyal employee of your store.
Well, the app's intention is Nobel. But the reach was not. This app was released officially in Oct 2018. Since then the app installation range was very low. Only a few daily installations this app has. And moreover, there was no active user.
Our target was to:
Increase the App Installation number.
Increase the daily active user.
When discussing this project & about to start our work, we face some crashes & ANR issues. As a result from Oct 2018 to Oct 2019, it has only 18.14k total installation numbers. But due to those issues, in November it loses its 15.45k lifetime user.
Below statistics will give you a clear view:
Lifetime User gain: 17.15k and User lost: 15.45k.
Despite having those obstacles, we are actually overcoming those barriers & gain the accepted results within 90 days.
Our App Store Optimization Strategies:
We used quite a few strategies to achieve our target.
Strategy 1: Facebook Advertising:
Facebook advertising is a powerful option to actually connect & reach with exact customers. It is one of the cost-effective ways to actually establish & grow your business. We choose the Facebook Advertising method to actually gain the downloads & active user numbers.
For doing a successful Facebook advertising we do the followings:
Create Video Content:

To promote an app, there is nothing like an introduction video.

So we do that. We produce a kickass explainer video for the "Amar Dokan" app.

Our content writing team wrote the video script. And our video animator team produces an engaging video of that content. With that, we make a successful presentation of that app on the video.

You can watch the video here:

Video Source: Amar Dokan App Promotional Video

Develop Creative Content & Graphics for Facebook:

Apart from video, we also need some creative graphics for Facebook promotion. So do that too. We write & design some creative & engaging graphics content.

Facebook Boosting:

Now that video & graphics are ready to roll. We start promoting them in two ways.

Targeting Page Promotion: First, we boost the video & graphics to increase the likes & followers of the Facebook page. That way more targeted people know about the app. It's a way to introduce the app to a more targeted audience.
Targeting App Installation: The next step is to boost the video & graphics content. In order to encourage the audience to install the app.

In this way, we reached a 671.6k audience.

This screenshot shows one Facebook post-optimization status. With the statistics, you can see how many audiences we reached. And that by only one Facebook Ad.

Some Struggles we face during this phase:

While doing that, in-between our campaign we meet some challenges. Especially from the user side.

When users log in to the app, they don't get the verification code.
After entering the pin code, it shows an error.
When the user wants to reset the code, it shows error.
Well, such challenges disrupt our work a little. But we didn't head back.
End observation of Facebook Advertising:
End observation is quite remarkable. We achieved 12,756 followers. Below I attached a statistical result.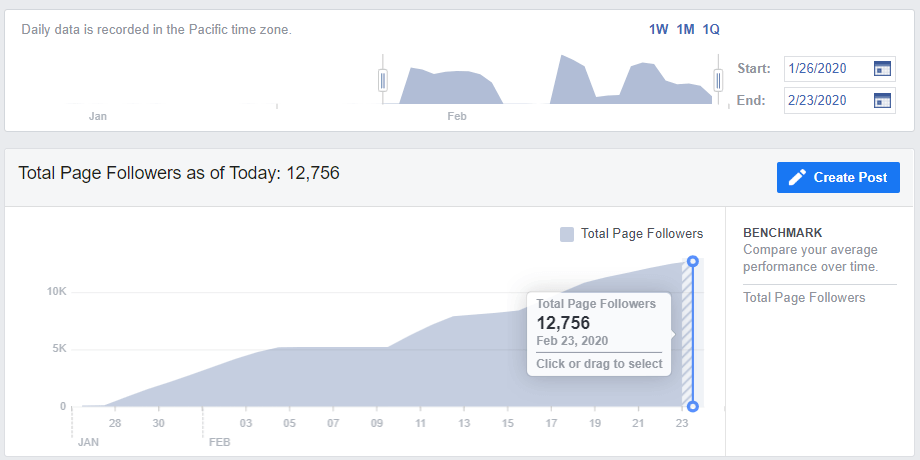 Now it heads towards a total of 13k followers.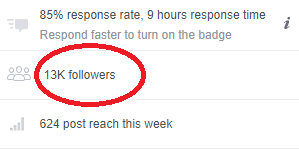 Strategy 2: App Store Optimization:
Now coming to the main part. To optimize the app store, we follow the below-mentioned approaches.
App Store Keyword Research:

While doing the outside promotion. That is Facebook Advertising. We also start researching the keywords for app store optimization. For that, we take the help of different ASO keyword research tools. Along with that, our in-house SEO specialist does most of the work. We target those keywords which have the most traffic & less difficulty level.

App Store Keyword Optimization:

With the researched keywords, we optimized the app store. As the Google play store has 4,000-character keyword fields. We allotted each keyword carefully in Title & Description.

Write a descriptive title for Play Store:

Make a relevant title help to improve the ASO. For the Google play store, you have a 30 character limit to fit your title. So you have to be extremely concise about that. In our case, we use the main keyword in the title. Keep the secondary keywords for the description.

Write Compelling Descriptions:

Like SEO, keywords play an important role here as well.

So for ASO, we put the most important keywords in the descriptions. Keeping the density very limited (5 times).

We write a description that targeted the app's customer base. We write it in a simple & concise language. And it does have a call-to-action. We make the description most searchable & user-friendly. As we have 4000 characters to work with.

Choose the Right Category:

Placing your app in the right place is important for ASO. Putting them in the wrong category can lead to a rejection stamp.

For our project, we apply the 3 approaches

First, pick the category that describes our app the most.
Then check how many apps are currently in this category. After doing analysis, we choose the least competitive category.
Check the EAW of other apps in those categories. And place the app in the lower number of the categories.

By following the above approaches, help our apps rank top on the play store.

Include screenshots on the Description:

Images give life to any descriptive text. While the description portrays the important info about the app. It's also important to put innovative graphics of your app to strongly convince the audience. It shows the app's pivotal features, latest updates & more. Most customers skip the description & watch only the image to primarily understand the app.

We include useful screenshots in the description to make it more appearable. Screenshots showcase the key parts of the app.

Audiences only spend 7 seconds to decide whether they want to download it or not. To make the screenshot more appealing you can take the help of different tools.

Localize the App listing:

It's important to set the audience for your app. Google play store helps to localize the listing to make it more readable & discoverable. As our target country is Bangladesh. And mostly the Bangla-speaking audience. So we set it that way. And it helps to increase the downloads.

We do that by using the following steps:

First, go to the "Store listing Tab".
Select Translations
Then choose the target languages.

From the below result you can see, our active user increases gradually over the month.

Eye-catching Icon Design:

An engaging app icon is very important for optimization. As you get only one app to show the audiences that your app is worth their time.

For our project, we choose the most eye-catching icon. That's not similar to any other apps.

Reply back to the reviews

We encourage users by replying back all their reviews they leave on the play store. It's a way to show them we actually care of their positive & constructive feedback

Monitoring App store analytics & routinely re-evaluate:

The last step of our optimization process is continuously kept tracking the app store analytics. As a result, we know where our app stands & what needs to improve further. We re-evaluate the steps when we're not pleased with any data & results. Make re-assessments.
Overall App Store optimization Outcome:
As our work started from 22nd Dec & lasts till Feb 23rd. Within these days, our results are something like this

You can see the progress through this graph: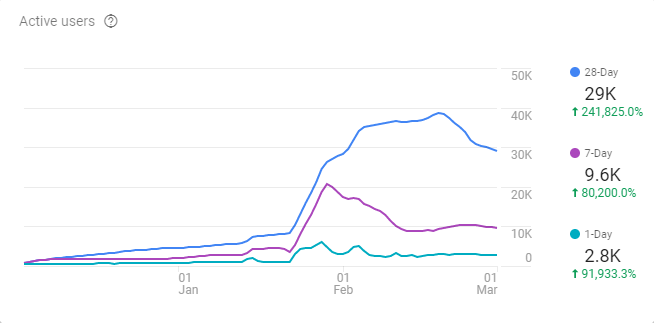 Daily active users increase with a 22.2% growth rate. And approximately 386 users use this app for a longer period which lasts 30 minutes.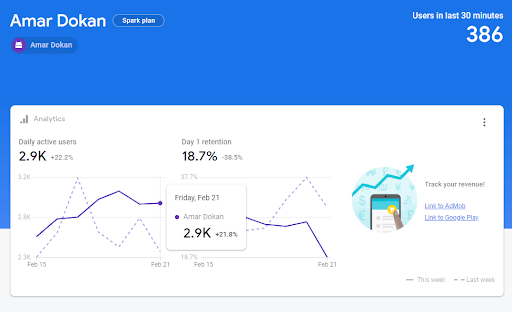 Final Outcome:
With our last 3 months of relentless work, we successfully gained 44.19 k, new users, in the first week of Feb.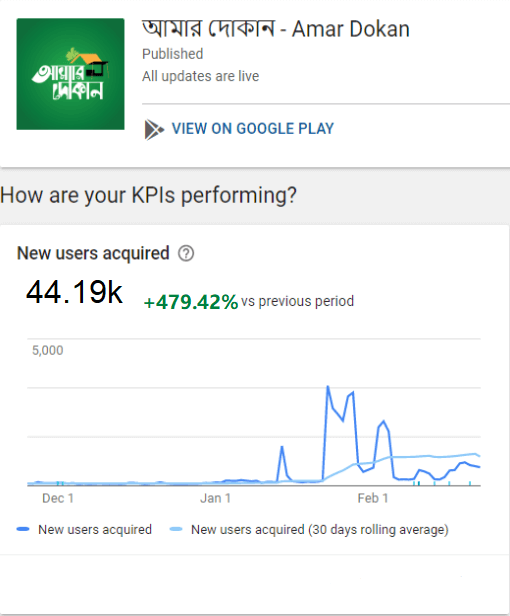 The downloads improved by 479.42% in less than 3 months. Which previously was only 18.14k. Now the total app installation number is 62.33K. That you can observe by the below progress graph.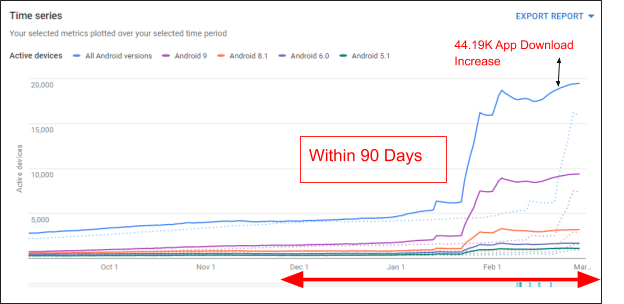 And that achievement becomes possible by following the proper app optimization approach. We increased the 479.42% app downloads in less than 90 days

That's our successful App store optimization case study. We hope our success story will inspire you. And will give you enough insights to optimize your apps on the App store. So if you haven't started optimizing your App yet, you need to get started now.
Check Your Website's SEO Score
Enter the Domain or Page URL and Keyword to get an SEO report in less than a minute.
(URL Example: https://yourwebsite.com (or) https://yourwebsite.com/your-page-url/) (Keyword example type: seo company (don't type) seo company, seo agency