Farjana Mitu

Head of Digital Marketing Manager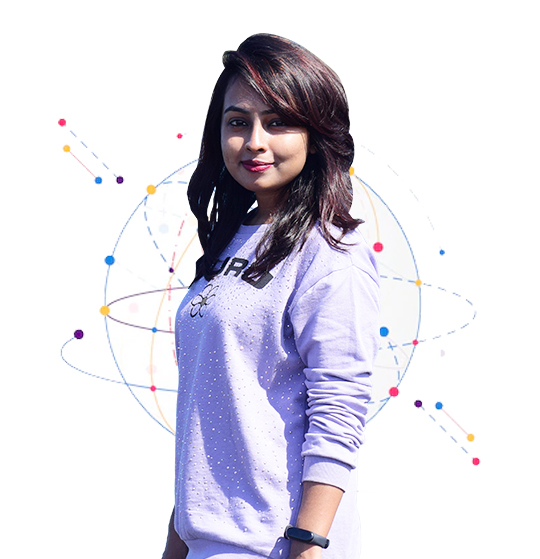 Business has only two functions – marketing and innovation


Request For a Free Digital Marketing Consultation

Good marketing makes the company look smart. Great marketing makes the customer feel smart.
See below how my detail-oriented professional with 4+ years of technical experience in Digital Marketing can boost your online presence & conquer the digital landscape.
Conversion Rate Optimization – significantly increased revenues
Strong ability in Marketing ROI & Budget Management
Strategic Thinking & Planning skills
Multivariate Testing & Optimization (Managed more than 30+ websites)
Problem Solving Creative & Analytical skills (Qualitative & Quantitative)
Ability to do Contextual Marketing
Great Interpersonal and Analytical skills in Communications
Data-driven Search Engine Optimization (with 4+ years of experience)
Search Engine Marketing (Created 100+ SEO Campaigns
Social Media Marketing (Created more than 350+ Campaigns)
Crafted Design & UI kit from scratch
Content Creation & Marketing with development & deployment
Specialized in long-form SEO content (landing pages, blog posts, etc.)
Specialized in short-form copywriting (social media, email marketing)
Quality Assurance Competencies (Identified & Solved the issues)
Video Marketing (Wrote, & Produced for Social Media Channel)
Brand Storytelling (Crafted, executed strategy & Boost up Growth)
Public Relations (Handled more than 30+ tasks)
Project Management & Leadership Skills (Always aligned with Team)
Experienced in Web Analytics & Digital Marketing Metrics
Always Up To Date with Google Analytics & Google AdWords
Ability to do Data Analysis, Visualization & Research
Understanding of different Tools & Platforms
Multitasking (Served as a successful leader)
Always Up To Date with the new trends & eager to learn new things
My advertising will bring the customers


But it is your job to keep them buying from you.

She is a big believer in great marketing efforts to communicate with the clients and audience, thereby making them passionate about the company we work for.
She is an enthusiastic digital marketer who is really interested in changing how businesses operate online and transforming their online presence.
She loves nothing but helping businesses to achieve their success in digital channels by implementing branding strategies, technological advancements, and changes in order to increase online presence, boost revenues, raise brand awareness, and promote successful digital marketing and online advertising campaigns. Putting metrics and goals ahead of everything she brings innovative content marketing strategies.
Alongside her many technical and marketing expertise, she also upholds the following work standards:
Strong work ethic and commitment to all projects and procedures, including the ability to plan and manage several initiatives with little supervision.
Always be mindful of clients' needs and timelines.
Always be professional and insightful when managing any project.
She offers a systematic approach to your brand, social media, digital advertising campaigns, graphic design, digital analytics, web design and management, Google search, and more. As well as help in generating valuable leads and client acquisition. She will even manage many projects at once and come up with a fresh marketing plan that crosses all boundaries.
Well-experienced team work with her in every project for designing and executing customer-focused performance and driving business growth. The services you will get by working with her and the team is shared below.
Digital Marketing and Strategy
A good marketing strategy can not be ignored. Since she has been working as a Digital Marketer for a while, she put her knowledge into end-to-end marketing solutions that drive traffic, convert leads, expand your audience, and please your clients. She already worked with several global corporations as their Digital marketing partner, exceeding their goals and delivering the best results.
She adopts a holistic approach when providing digital marketing services and makes use of SEO, Social Media Marketing, Google Ads, and more, to achieve success through a number of different channels. When properly implemented, this comprehensive strategy exclusively increases the value of a single channel, building an ecosystem centered on the consumer's needs.
---
Social Media Marketing
You can communicate with your target audience more efficiently through social media, which increases sales. Since your website acts as the primary hub for introducing your business online, social media is the ideal technique to spread the content across networks and reach a broader audience. Because of the ongoing introduction of new features and platforms, social media marketing is always evolving.
In order to generate leads, increase conversions, and improve brand recognition, she will develop a strong marketing strategy using her expertise in social media marketing.
---
Facebook Advertising
It takes more than post boosting and advertising to succeed on Facebook. You need a strong plan that will cut your spending while increasing conversions.
The Facebook Advertising solution provided by Farjana not only maximizes leads and sales but also offers advice to businesses on how to expand successfully. She will assist you in reducing Ad waste and creatively promote your advertisement with incredibly precise targeting.
Facebook Ads is not about gaining likes, it's all about increasing the demand for your brand. By crafting the right messages, choosing the right graphics, and creating the right audience goal, she will bring your goal and advertise the ideal rhythm.
---
Search Engine Optimization
Together with our SEO team, she carefully develops a winning SEO plan with the company in question that will provide results over the long run. Unlike many other "fake promises" by SEO agencies, we don't employ outdated, ineffective strategies but help you get a ranking on the first page of Google with our SEO Experts.
---
Website design and development
Alongside our web team, she'll deliver 100% mobile-friendly, responsive, SEO-friendly, and completely customized website design, and development services to every client. Using the latest and proven web technologies we make sure our clients' website goals are not only met but exceeded.
---
Branding and Reputation Management
The most important asset for every business is to have a positive reputation both online and offline. She thus provides a full range of services to restore any company's online reputation. She'll help you to establish a strong equilibrium between your offline and online presence with the support of our years of experience, and she will also provide damage control options that always kept you one step ahead.
---
Youtube Marketing
Using her YouTube Marketing knowledge and experience she'll set up, optimize, and promote your channel for maximum view, promotion, and success. She has a unique YouTube SEO-based approach up her sleeve which will help to target the right audience, manage the right campaign and get your video reached and seen by more people.
---
Content Creation
You need high-quality content if you want to be known online. By producing top-notch content and promoting it to the appropriate audiences, our content can get you recognized.
Here Farjana's responsibility is to completely understand all of your content requirements before introducing you to our content team, with whom you will get the professional content writing benefit. Your business deserves the high-caliber content that our creative content writers provide. Together, we do great things as a team.
---
Display Advertising
A picture can convey ideas more effectively than words can. Both are also aligned with digital display advertising to produce banners that are highly effective for any type of business. In addition to managing the design of these advertisements, Farjana and the design team will spend time brainstorming the ideas and defining which audience and platform are most appropriate for each one.
---
Media Buying
Farjana will provide comprehensive campaign management, marketing, and branding solutions for all digital media channels. It increases your chances of attracting high-quality traffic, marketing your company, and optimizing your online revenues.
---
ASO Service
You can get the most successful mobile app optimization service by utilizing the ASO service. When executed successfully, on a large scale, and for different markets, it produces downloads that generate revenue.
Farjana and our ASO team will continuously push your app up in the search results, boost downloads, and ensure strong, long-lasting growth using the App store algorithms.
If you are looking for a Digital Marketing Expert who can bring innovation and highly effective results, Farjana Mitu is the one who can take your business to the next level.
As she quotes,
"There is a distinction between decent marketing and outstanding marketing; your approach and actions will determine if you can cross that line."
---